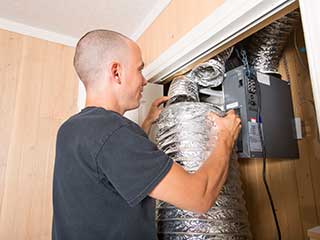 When your home has so many other troubles and projects that it needs taken care of, why should you bother with air duct cleaning? Namely, for two big reasons.
Your Family's Health
Likely the most important reason to get your air ducts regularly cleaned is for the health of you and anyone else in your home. Dust and dirt that are drawn into the ducts for heating and air conditioning pollute the air that's distributed all over your home and lowers the air quality in the process. This can cause a range of troubles, including having a harsh negative effect on anyone already suffering from breathing conditions like asthma. If you notice that allergy symptoms are persisting stubbornly inside, or that older people and children seem to have some trouble with breathing, this all points to needing a cleaning.
Your Home's Energy Spending
Another component that's effected by dirty ducts is the energy costs of your home! The reason for this is heating and air conditioning running for longer to make up for air being slowed from the buildup of dust in the ducts. In order for the air to fully spread through the home, it requires these systems to keep going and waste your energy in the process. Should you be aware of increasing energy costs, as well as fluctuating temperatures around the home, these signs both point towards your ducts needing to be cleaned out.
We've Got You Covered
Whatever the issue, our trained technicians will be there in no time to get to work for you and take care of it. We use only the finest equipment available to ensure a job well done, and the thoroughness of it promises that it will last. There won't be any risk of further contamination of your home's air thanks to our high-powered vacuums that will suck up any and all debris, rather than simply stir it up.
Call Us Now
Contact Air Duct Cleaning Sugar Land today so we can get to work!