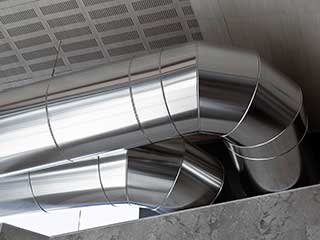 Whether your business is office based or public facing, you'll want the conditions within your building to be as welcoming and pleasant as possible. If the vents and air duct systems within your commercial property go long periods of time without a high quality clean, they can have a detrimental effect of the environment within your premises. It can be vital for businesses to take care of the air quality they provide for staff and customers, but for those that host guests on a regular basis, this should be a top priority. Here we outline some of the crucial reasons your vents and air duct systems deserve thorough commercial air duct cleaning and maintenance services.
Mold is a Problem That Everybody Recognizes
Mold can form within your HVAC and ventilation units if they are left to go years without and professional clean. These devices handle a lot of dirt throughout the year. Dirt from outdoor, hair, skin cells and grease can all be swept up by air and steam to be absorbed the fans and filters within you ventilation systems. With enough build-up, these collections of bacteria can form spread of mold growth. The biggest threat that mold brings is its appearance and odor. Both aspects are unpleasant features that most people will be quite familiar with. The stains and smell produced by this type of infestation is easy to recognize, and it gives your customers, visitors and staff an immediate impression when it is noticed.
Parts Can Decay From Excessive Dirt Build Up
Not only is visible and odor ridden dirt repulsive, it can be very destructive. Parts that are covered in bacteria are likely to decay much faster than if they were kept clean. Filters, internal fans and other key fragile components are at risk if your vents are left uncleaned for long periods of time.
Expert Commercial Air Duct Cleaning
If your air ducts have gone years without an air quality check, call us today for a quote or to book a call out. Our commercial air duct cleaning services can help to improve the air quality within you building and avoid the risk of blockage and mold growth.