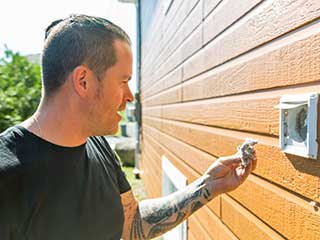 Why Is Vent Cleaning Important?
Namely, the biggest reason for cleaning regularly is for the safety of your home and anyone inside it. The lint and other substances that get caught in the vent over time can begin to burn due to the hot air that comes through it. Eventually, this can cause a spark that will turn into a big flame before you know it. The other issue is energy spending, as it will take more energy than necessary to get enough air through the blocked vent and dry your clothing. Your clothes will also get battered because of the longer cycle that can damage them. In all cases, the best and easiest fix is to just keep the vent clear!
What Should You Look For?
One of the easiest ways to tell if your dryer's vent needs cleaned is to look at it if it's easily in sight and check for noticeable lint and dust sticking out of the slots. If you can't see it, pay attention to the run time of your dyer. If it goes longer than it used to, or you have to set it to run for an extended period of time to fully dry your clothes, then that's an indication the vent is clogged up. Your energy bill may also reflect this with a steady increase in spending. Should you notice a burning smell when you start your dryer, turn it off immediately! This requires urgent attention, and postponed use until after the vent is taken care of.
Let Us Handle It!
We're happy to come out whenever is best for you and get to work on making your home safer and more energy efficient as well! We'll use the highest quality equipment to get your dryer's vent completely clear of any blockages and dispose of the materials safely so you won't have to worry about a mess. It'll be done and working again smoothly in no time, and we can check the airflow to make sure this is the case.
Call Us Now!
Contact Air Duct Cleaning Sugar Land, and let us help.
We also offer the following services: